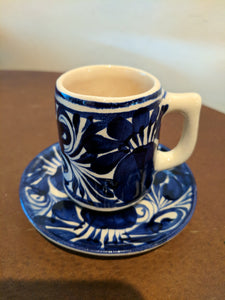 Small Cup and Saucer
Enjoy your elixir just the way you would in our shop in Santa Fe and Salem! This cute 4 oz. size is perfect for Kakawa Elixirs, espresso or any sipping drink! Hand painted for us in Oaxaca, Mexico. Set is one cup and one matching saucer. These are hand painted and some minor variation should be expected. 
*Due to very limited inventory we are only able to accommodate orders of 1-4 sets. Any orders over 4, will be refunded. Thank you for your understanding.